Military Models








Toys, Real vehicles, Planes, New pictures, Model timeline and Build log!








...and not forgetting...




WWII Axis Armor.

1/35 German observation group.
This is 7 of the 8 Tamiya German observation group 1/35 figures.
A picture inspired me to put them in a war-torn building.
Luckily for me most of these guys' faces are behind lenses.
(I struggle with getting good eyes.)
The rubble was great fun to do! I made a flat sheet of wall-patch compound and bashed it all up!
So that's basically real rubble. Approximate year of construction: 2007.

1/35 Pak 35/36
Pak 35/36 with rocket propelled hollow charge attached, (Tamiya)
Gun crew are eating - not sure if you can see but they have loaves of bread and sausage.
Mounted troops are Florian Geyer (Dragon).
This is number 5 in my 'gun emplacement' series.

1/35 7.5cm Pak40 antitank gun.
7.5cm Pak40 antitank gun. Tamiya kit.
Approximate year of construction: 1997.

1/35 Pak 40 and crew
German infantry and Pak 40 anti-tank gun.
This is the Tamiya Pak 40 and crew with some assault troops to add some action and interest!
The troops rushing forward and especially the guy leaping the wall gives a real sense of movement to the scene which I hope I captured in the pictures.
There is probably a touch of artistic license here as I'm not sure troops would want to get that close to an anti-tank gun in real life.
Year of construction: 2007. This is my third 'gun emplacement' scene.

1/76 8.8cm Pak 43/41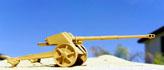 It uses parts from an Airfix 5.5 inch gun and wheels adapted from the Airfix Mark I tank. 1968.

1/35 Flakvierling 38.
Four 2 cm Flak 38 gun in a quad mount, shown in a sandbagged emplacement.
This was the first in what I now regard as my 'gun emplacement' series. 1998.

1/35 Horch Type 1a.
1/35 Tamiya Horch Type 1a
Approximate year of construction: 1998.
No top
With top
A German Officer contemplates the battle plan.

Der Fuhrer!
Hitler in one of his Mercedes parade cars. This is the Hasegawa kit.
Most photos and film I have seen have shown Hitler riding in a black car, but he supposedly also rode in a silver one.
Wearing white gloves. 1997.

1/35 Schwimmwagen Kfz 1/20 k2s
Tamiya 1/35. Early version with added detail. 1998.
The crew figures look a bit stiff in the photo, don't they?

1/76 Krupp Protz Kfz 69 towing 3.7 cm antitank gun PAK 35/36.
Krupp Protz Kfz 69 towing 3.7 cm antitank gun PAK 35/36.
This is the 1/76 Matchbox model, with a only a few improvements to the tiny gun.
I had very little reference material on the truck - just enough to verify that it looked right.
Approximate year of construction: 2003.

1/76 Kubelwagen

Aifix kubelwagen, part of the reconnaissance set. 1975.

1/16 Kubelwagen
Tamiya 1/16 scale Kubelwagen.
Fictional Republic of Hatay markings.
This was the briefly seen real VW Kubel from the movie "Indiana Jones and the Last Crusade".
I added detail to the engine - cables and such.
I used some real cloth for the top.

1/72 Opel flak 38
Opel flak 38. (ESCI 1/72)
Obviously a rushed attempt to provide mobile anti-aircraft fire as the Allies moved to dominate the skies.
Approximate year of construction: 1996.

Panzer I
Scratch-built 1/76 Panzer I repaired and tidied up so I could display it.
The tracks were based on the Airfix 'Bren' carrier.
I added a flag to the rear. Built 1969. Restored 2000.

1/72 Panzerjager I, or 4.7cm Pak(t) (Sf) auf Panzerkampfwagen Ausf B.
ESCI 1/72 with AB figures.
Note the flag for aerial recognition.
Approximate year of construction: 1996.

Panzer 38t.
Fujimi
This tank was an advanced design for its day.
Built originally for the Czech army production was taken over after the Germans invaded.
Initially unreliable this tank served for more than 3 years in German service and was widely re-used as a mobile gun platform.
Approximate year of construction: 1972.

1/72 Pegasus Models Pz 38t
1/72 Pegasus Models Pz 38t
The open box on the back of the turret was known as 'Rommel kist'
Scratch built tracks were added to the front
Box was added on the side. Note the one-piece tracks
1/72 Pegasus Models Pz 38t
Figure from AB models
Extra boxes and stowage added
This one has dark yellow paint sloppily applied over the original dark grey
1/72 7.5cm PaK40/3 auf Panzerkampfwagen 38(t) Ausf H (Sd Kfz 138).
ESCI Marder III
Here is a prime example of re-use of the Pz38(t) chassis mounting an effective anti-tank gun.
Approximate year of construction: 1996.

Panzer II
PzKfw II and Afrika corps VW with personnel.
I finished my VW by replacing the canvas top.
Tamiya PZ II and troops, Modelkasten tracks, Italeri VW.
The small size of the Panzer II can be appreciated by realising it is not much bigger than a VW bug.
I finished my Pz II by adding Modelkasten tracks.
The oil drums here are especially relevant as supplies were a constant problem for the Africa Korps.
I think these were ESCI Afrika Korps figures.
Hmm pointing... An officer!
Overhead view of VW showing map of Libya!
Built in 2003 - still need to work on eyes!
Desert 'balloon' tyres fitted.
Turret markings indicate a command tank.
Showing original kit tracks - now you see why I purchased the Modelkasten track.

1/35 ICM Panzerkampfwagen II Ausf L "Luchs"
1/35 ICM Panzer II Luchs
Kit jerrycans had molded on framework so I used Tamiya jerrycans, added the ICM handles and spout, and built new frames to hold them
Added PE screens and scratch built bins and ammo containers
Antenna bases are resin with the tapered antenna in turned brass
Gun was turned aluminum relacement
1/76 Wespe
Leichte Feldhaubitze 18/2 auf Fahrgestell Pz Kpfw II (Sf) (Sd Kfz 124).
More commonly known as Wespe (Matchbox 1/76)
Built in the last days of university lol!
Year of construction: 1975

1/35 Marder II!
Tamiya Marder II.
I had it, plus Modelkasten tracks, so I built it.
Today, buy the Dragon kit!
Built 2012.

1/35 Marder II D
Alan 1/35 Marder II D kit.
White figure is Dragon, dark is Tamiya.
Kit bought off ebay had pieces missing.
Luckily I copied the floor plan from a scan of the kit sprues.
Built 2012.

Panzer III
ESCI 1/72 Pz Kpfw III Ausf M (Sd Kfz 141/1). Approximate year of construction: 1996.
A late model panzer 3, production of the ausf M was cut back anticipating its replacement by the Panther.
Further Pz 3 chassis were used for STUG III production
This particular model was distinguished by special modifications to enable deep wading by the tank.

Panzer IV
2001 build of 1/76 Pz Kpfw IV Ausf F1 to complement original Ausf J conversion.
Overall panzer grey with splotches of green.
Commander figure by AB.

1/76 Pz Kpfw IV Ausf F2 in western desert.
Airfix F2 with figures by AB and Airfix. 2005.
I had fun opening all the hatches on this one and then detailing the insides.
I have always wanted to have a crewmember hanging out the side of a Pz IV turret.

1/76 Pz Kpfw IV Ausf J (Sd Kfz 161/2)
This is an Airfix 1/76 amended to the later long barelled version.
I added all the extra armor with plastic card.
I think the barrel was from a Panther.
Approximate year of construction: 1971.

1/35 2cm Flakvierling auf Fahrgestell Panzerkampfwagen IV (Sf). . Tamiya supplied a crew with this vehicle, which I have not constructed yet, and I suppose such a vehicle would have been tested. Approximate year of construction: 1997.
Tamiya, built around 1997
Designed early in 1943 this vehicle never entered production since Hitler did not give the go ahead.
Since this was a prototype vehicle I have given it a very "clean" appearance.
There were lots of sunken ejection marks on the inside of the fold-down panels.
This required careful puttying and sanding to preserve detail.

1/72 Sturmgeschütz neuer Art mit 7.5cm PaK L/48 auf Fahrgesstell Pz Kpfw IV (Sd Kfz 162), also known as PanzerJäger IV.
ESCI PanzerJäger IV.
Had a low silhouette and sloping front armor but limited traverse.
Approximate year of construction: 1996.

1/72 Hummel.
ESCI model with a fair amount of enhancement!
Figures - 3 AB adapted from sturmgeschutz crew, and one ESCI in feldmutz.
I replaced the rear with plastic card so I could open the doors.
Side view. Going for the indistinct camo look.
Gun replacement shows the massive size of the original.
Hummel build.
Lots of internal detail added.
Gun rebuilt.
This was an early ESCI kit and it shows.
Front view.

Panzer V - 'Panther'
Revell 1/72 model finished with snow camouflage.
The reference picture I used here was from Sqaudron/Signal armor publication number 11, "Panther in action", page 20.
The winter crew was from AB Figures.
I applied a rough zimmerit coating to this model, using contour putty which I then scored
I drilled out the turret rear hatch so I could model it open which Panther crews often did for ventilation, as seen in the reference picture, despite the chilly weather.
Interestingly I had to rearrange the tools on the side to match the real vehicle, indicating that the placement of these varied.
I think a couple or more figures really bring a little model to life.
Approximate year of construction: 2000.
Small mesh added to engine openings.

1/76 Panzerbeobachtungswagen Panther. Known as Panther OP (Observation Post) by the allies.
This is converted from the Airfix 1/76 Panther.
That impressive-looking gun was just a wooden replica so that the turret could be crammed with radio equipment.
Used for command and artillery observation. Built 1967.

1/35 Panther Ausf A.
Italeri. With zim (OK). Tracks ARE awful (reviews are correct).
I used a nice muddy version from Panthers in Action (SS).
Other details include squashed cleaning rod tube.
MG cover on a rope or chain.
That's a fuel pump threaded through the spare tracks.

P1/72 z Kpfw V Panther Ausf G.
Revell model finished with airbrush and hand painting in 2008.
Note driver's visor eliminated for stringer frontal armour.
Broken outline on turret numbers makes the numbers more indistinct.
Note late style exhausts designed to cut flames!

1/35 Panther Ausf. G
4./SS=PzRgt. 1 of the SS-Pz.Div, LSSAH (Leibstandarte SS Adolf Hitler), Hungary, March 1945.
Reference: Panther in Color, Waldemar Trojca.
Tried for a texture on the exhaust. Heat burnt off all paint.
Finished clean to show off camo and details!
Constructed in 2008.
Angled shot shows off the new track to fine advantage!
This is the Dragon late Panther G "Smart Kit" with added turret machine gun from Tamiya.

1/35 Panther Ausf. G
Dragon late Panther G "Smart Kit".
Panther Ausf. G, 1./SS-Pz.Rgt. 1 of the 1. SS-Pz.Div. LSSAH (Leibstandarte SS Adolf Hitler)
Hungary, March 1945.
Reference: Panther in Color, Waldemar Trojca.
Turret machine gun from Tamiya.
Schurzen from Voyager Model.
Dragon late Panther G "Smart Kit".
Constructed in 2008.
This was deliberately done as a 'clean build'.
All 3 Panthers together.
All 3 Panthers together.

1/72 Jagdpanther (Sd Kfz 173)
ESCI, built around 1996.
This heavy tank destroyer mounted a long 8.8cm Pak L/71 gun on the Panther chassis.
Production did not start until 1944 with 392 vehicles being produced.
Later vehicle with a heavy gun mantle bolted into place on the front.

Panzer VI - 'Tiger'
Tamiya 1/25 Tiger I OOB except for putting some detail under the rear grills and replacing the main tow cables.
Was amazed by pictures of this kit when I was a kid.
Now the interior seems laughable, so I built it as an exterior-only, fun build.
Looks 'very clean' in these pictures :-)
I put this together in 2013.

1/76 Pz Kpfw VI Ausf E (Sd Kfz 181) - Tiger 1.
Michael Wittman's Tiger.
This is an Airfix Tiger modified to an early model by using Panther wheels.
Details include turret box and smoke makers, tools and handles with decals by Almark that simulate zimmerit!
The Airfix tracks are now gluable with plastic cement!

1/76 Tiger I
Airfix Tiger - inside of the hatches detailed.
I did lengthen the barrel and improve the muzzle brake.
Added the turret stowage bin, exhaust guards, and mudflaps front and rear.
Added tow cables and tools including scratch built jack and 2 figures.

1/72 Tiger.
I made the mistake of trying to shape the tracks in hot water. I guess the water was TOO hot.
I ended up replacing them with ones made from plastic card and strip.
Although these home-made tracks lack detail on the face, they are thinner and wrap around the roadwheel with sag quite easily.
I would judge them as quite usable for a 1/72 model.
I'm thinking of making my own for some Hasegawa 1/72 German halftracks since I never did like the look of the thick kit tracks!
Hasegawa Tiger I in winter camo.
AB Figures were used here.

1/72 Sturmtiger.
Dragon 1/72 Sturmtiger.
I like how this came out!
Must admit tracks came out pretty nice for 1/72!
Roughened the gun mantlet.
Put some battered zimmerit on the lower hull.
Added a rudimentary interior.

1/35 Pz Kpfw VI Ausf B (Sd Kfz 182) Königstiger (King Tiger)
Impressively large model, though rather dated.
Tamiya King Tiger.
Hand painted! (I.e. no airbrush in 1996)
Nice model for the time but the tracks are a bit soft.

1/72 Pz Kpfw VI Ausf B (Sd Kfz 182) Königstiger (King Tiger)
Scenario for this model was a newly issued vehicle.
ESCI kit.
Shown with complete external stowage,...
all track guards in place and fresh undamaged zimmerit.
Year of construction 2010.

1/72 Jagdpanzer VI
ESCI Jagdtiger Ausf B (Sd Kfz 186)
Scenario for this model was a late war abandoned vehicle.
So no side skirts or external stowage.
I.e. Everything lost or stolen!
Year of construction 2010.

1/76 Sturmgeschütz mit 8.8cm PaK43.2 (Sd Kfz 184) more popularly known as Ferdinand.
This is a scratch built model with Airfix Tiger wheels, track and gun and a hull built from plastic card.
It was renamed Elefant after some improvements were made, the most notable of which was the addition of a front mounted machine gun.
Original superstructure also has the original paint!
Scratch built a jack that was prominent on the front.
I had to purchase 2 Tigers to complete this repair.
Because of track rot I had to completely rebuild the chassis of this model!
New chassis and original superstructure from 1971!
The original used at least one Stug III spocket, but I modified Tiger sprockets this time.
Original base separated from the superstructure and the new chassis being build using much thicker plastic card! You can also see the Airfix Tiger box in the background.

1/35 Sdkfz2 Kleines Kettenkraftrad.
This Tamiya kit could sport a little finer detail, in the tracks for example...
but looks pretty effective when painted up.
I took a bunch of detailed photos of the example at Bovington...
but the kit it was so small I ended up adding nothing! 1998.

1/76 Sd.Kfz. 234/2 Puma.
This is the Revell, ex-Matchbox Puma with some extra detailing, of course!
Approximate year of construction: 2007.

1/76 Sdkfz 234/4.
(Email me privately if you need something from the old AFV Interiors site. Can't publish it due to copyright restrictions, but I can share! I have most if not all pages.)
Airfix German armored car, built 2004.
For the fenders, I scanned a side view from the Ellis/Chamberlain Encyclopedia of German tanks of WWII and adjusted the size until it fit the model.
Then I used it as a template to cut new fenders from plastic card!
I added many interior details especially to the gun, added driver's seats, mufflers and a front bumper.
All interior details courtesy of AFV Interiors site, now sadly closed due to excessive bandwidth!

Halftracks!
1/76 SdKfz7 with 88mm gun
This is a little diorama that I put together very quickly for my grandson's birthday.
This is the Airfix SdKfz7 with 88mm gun, with Revell German Infantry figures.
As you can see the dark grey and green camouflage works very well as it is hard to see against the background!
Getting up close in braille scale!
This was an OOB build
I used some old track here, so there might be track rot!

1/76 Sdkfz 7 flak measuring vehicle. The vehicle was used to transport a flak meauring crew and their equipment. It features an extra seat and a large stowage box for the gear. So, as I understand it they went round measuring the effectiveness of their flak guns and gunners to try and improve same.

This was the very first conversion that I ever did!
Airfix Sdkfz 7 converted to flak measuring vehicle.
Built 1967. Restored 2001. It was suffering from serious track rot.
I painted the new additions in the exact same colour as the original - Hunbrol #63 - and it matched perfectly after 40 years!

1/76 Sd Kfz 11 with and BMW motorcycle.
This great little diorama is by Matchbox.
I took the half-covered top which was apparently strong enough to support people from a reference picture.
I added some figures - I think they were Revell.
The paint is actually dark grey, and the desert color comes from mud and clay applied over the grey, hence the well-worn look.
Nice well-worn look.
Towed Pak 40. Built in 1999.

1/72 Sd Kfz 251/1 mittliere Schützenpanzerwagen (Wurfrahmen 40).
ESCI 251 halftrack with rocket launchers.
Basically OOB build.
Hand painted camo.
Approximate year of construction: 1997.

Leichte Panzerspähwagen (2cm) Sd Kfz 222.
Light armored car - Airfix, form the German reconnaissance set
Approximate year of construction: 1975.
Not sure about the headlight - they were usually covered.
Note the mesh detail on the turret roof of this small model.

1/72 Sdfz 250/9
Sdfz 250/9 - Russian front 1942
Kit only has a few boxes, pick and shovel and what looks like a jack?
So I added jerrycans, boxes, tarps etc.
This is the ESCI 1/72 Sdfz 250/9
I'm not sure but I think the small items strung on each side are ammo containers for the MG
Here's an interesting little beastie. The Schwere Wehrmachtschlepper was basically a half-track truck with Flak gun. Most had a truck-type cab, but an armored cab was introduced in mid-1944. However, there is no mention in the Encyclopedia of German Tanks of World War Two (Chamberlain/Ellis) of a quad 2cm Flak 38 mounting as seen on this A single 3.7cm Flak 43 was fitted as was a 15cm Nebelwerfer (rocket launcher), so this may be a Roco invention, or else maybe a prototype was produced. Such a vehicle could also have been produced in the field. (Interesting parallel to the Flak IV above, where the quad Flak version was a prototype and the single gun version made it to production, and maybe the same applies here.)
Roco minitanks model.
Quad 2cm Flak 38 mounting may be Roco invention!

1/76 Sdkfz 7
Sdkfz 7 half track, early version on the Eastern Front, with crew figures from AB figures.
The addition of some nice figures go a long way to transforming this old Airfix model.
Airfix kit built in 2001.

1/76 3.7cm FlaK36 auf Fahrgestell Zugkraftwagen (Sd Kfz 7/2).
Sd Kfz 7 with armored cab and AA gun. Converted from the Airfix kit.
I replaced the chassis on this model as the original was badly damaged by 'track melt' (aka track rot).
This was one of the earliest conversions I did so I did not want to trash the model.
The sides of this model fold down on tiny wire hinges so the gun can be shown in firing position.
Approximate year of construction: 1968.

1/76 7.5 cm Sturmgeschütz 40 Ausf G (Sd Kfz 142/1).
I added some extras to the Airfix StuG III to more closely represent a late model. 2003.
Zimmerit, schurzen (side skirts) and rear stowage area were all added.
The gun barrel was too skinny so I used one from the spares box, an Airfix Panther gun, and built up the muzzle brake some to represent that found on the StuG.
Machine gun was from the Revell Panther, trimmed slightly so as not to look too big in 1/76. Extra track links came from the spares box.
One figure came from an ESCI Sdkfz 251 and the other from an Airfix RAF emergency set stretcher bearer. I added the headphones.

STUG IV
1/76 Sturmgeschütz IV (7.5cm StuK40 L/48) (Sd Kfz 167).
This model combines the Airfix StuG III and Pz IV to produce this variant.
The Poole Grammar School model club loved it!
Figures from Airfix German armoured car. Built in 1969.

1/35 STUG IV
This Tamiya STUG IV was my "Christmas Project" for 2005.
I added a wire handle to a Tamiya bucket so it would withstand hanging around.
The concept was to do a 1/35 armor subject over Christmas and New Years holiday, keeping it as simple as possible, no separate link tracks etc.
Though as you see I did do a quick zimmerit job on it plus some stowage - of course.

1/76 V2 missile with supporting equipment. Trailer/launch tower. Tractor. Radar dish.
This is a 1/76 model by Grip (Japan).
Launch control vehicle with an armored cab on a Sd Kfz 7 half-track chassis.
A mesh was added to the radar dish which was solid plastic.
Overhead view. Real thing would have umbilicals to the rocket.
Some details were added to the launch tower.
Reference was the box top illustration!
Approximate year of construction: 1972.
The Sd Kfz 7 tracks and wheels came from the Airfix kit as the kit tracks were one piece.

1/72 Pz.Kpfm KV-1 756(r)
This the PST 1/72 kit.
A program to rearm captured KV 1 tanks with a 7.5 cm gun and new cupola was started though there is only one known to have been completed.
Built 2012.

1/76 Japanese Type 97.
Airfix kit
Approximate year of construction: 1975.
A later Airfix kit with no track rot!
Japanese Type 97.

1/35 Japanese Type 97 Shinhoto
Japanese Type 97-Kai Shinhoto Chi Ha
Philippines 1945
Tamiya kit
Modelkasten tracks

Japanese Type 97-Kai Shinhoto Chi Ha
Tank was destroyed by bazooka January 30 1945, near Umungan on Luzon
Source: New Vanguard 137.
Japanese Tanks 1939-45, Osprey Publishing

Japanese troops training on Iwo Jima
Airfix 1/32 Japanese troops
Incorporating dummy tank found on Iwo Jima
Somebody wants to play tank gunner!
Practicing the charge.
Japanese oficer yelling at his troops.
So I imagined a officer training his troops...
..making use of the fake tank.
Pretty cool figures. Only replaced the cloths strips on the hats.

Pages on this site:
Home Page
World War One vehicles
World War Two Allied vehicles
World War Two Allied Tanks
This Page: World War Two Axis vehicles
World War Two Soviet vehicles
Post World War Two vehicles
Real Tank pictures
Toy tanks
Aircraft
New Pictures
Chronological listing
Build Logs